We are beyond excited to launch the Capital Region Cultural Food Guide! There's something magical about sharing a meal to connect and learn about a new culture. Why not go on a food adventure right here in the Capital Region, and explore some new cuisines and flavors?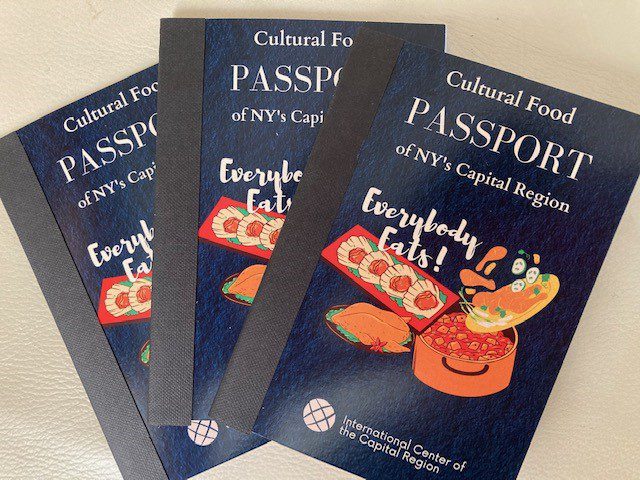 Keep this pocket sized passport in your purse or car, and get a stamp and discount at 15 local restaurants. Collect 10 stamps or more, and get a special prize from the ICCR. Join as a member by December 15th and get your passport in time for Christmas. What are you waiting for?
Frequently Asked Questions
How do I use the passport?
Simply show your passport page to your server before you order, and your discount will be applied. Your server will stamp or sign your passport page.
When does the passport discounts expire?
Your passport is valid for one year, until December 31st, 2023.
Can I use the discounts more than once?
Each discount can only be used one time per restaurant.
Can I purchase additional passports?
Yes, as a member of ICCR, you can purchase additional passports for only $25 each. You will receive a link in your email or you can contact us at info@iccralbany.org to request the purchasing link.
Which restaurants are in the passport?
We currently have 15 local restaurants in the passport including: Nani's Indian Kitchen, Tara Kitchen, Son of Egg, LaZeez, Copper Crow, Hu's House, Moliendo Cafe, Keobi, Sake, Sunhee's Farm and Kitchen, Mamoun's, El Mariachi, Athos, Umana Yana, Pancho's.
Will there be an online cultural food guide?
Yes, we are currently working on the online guide which includes even more establishments for you to explore. We plan to launch the online guide in Spring of 2023. The online guide will be free for everyone to access, but will not have discounts associated with it.